Jafra (in Egyptian) , Khephren or Chephren (in Greek) , better known as Khafre , was the fourth pharaoh of the 4th Dynasty of Egypt. He reigned from 2547 to 2521 BC.
In the Royal List of Abydos he is titled Jafra and in the Royal List of Saqqara Jaufra. The Royal Canon of Turin gives 20 years of reign (data badly damaged). Manetho (Egyptian priest) calls him Sufis II and assigns him 66 years of government.
Pharaoh Khafre: Biography
Son of Khufu and probably of Meritites; Khafre was married to Meresankh III , daughter of Kawab and custodian of dynastic rights , to Khamerernebty I, mother of Menkaure , and Khamerernebty II.
The Greek historian Herodotus wrote that Khafre reigned for more than fifty years and that in his time Egypt was in the greatest poverty, but this is contradicted by the construction of his temples.
Like his father, Khafre built a great tomb following the model of the perfect pyramid and is even credited with building the famous Sphinx (although some researchers think that the body of the sphinx had been sculpted beforehand and that the pharaoh was later appropriated it and had his face carved).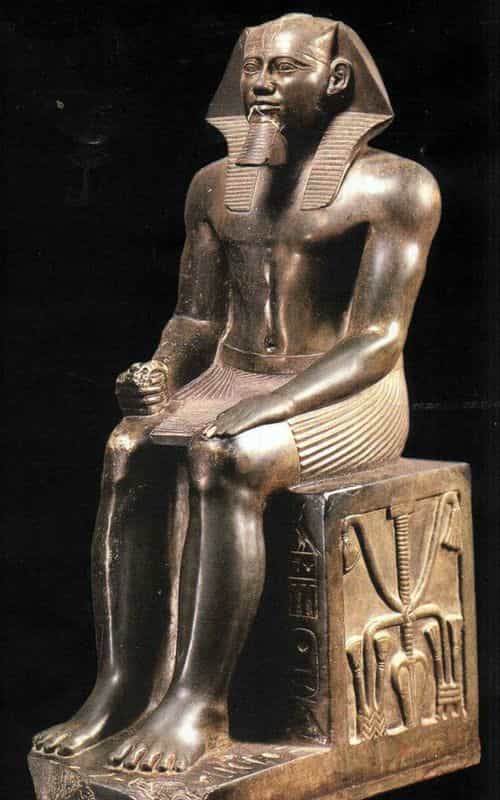 The seated sculpture of Pharaoh Khafre (Khafre Enthroned)
With regard to sculpture production, his life-size statue remains the masterpiece of the Old Kingdom, both for the skill of the work and its symbolic character, since it represents the concept of sovereignty in ancient Egypt. Hieratism, rigidity, cubic shapes and frontality are the essential elements of ancient Egyptian sculpture.
The seated statue of Khafre carved in diorite and today located in the Archaeological Museum of Cairo , brings together all the characteristics that made Egyptian sculpture a memorable art.
It is a full-length seated figure made with bas-reliefs. The pharaoh Khafre is represented half naked, with only the pleated skirt, in a position of rigid symmetry.
Seated on an ornate throne whose sides show the flowers of Upper and Lower Egypt, linked as a symbol of union, Khafre's hands rest on his knees, while he holds his head upright and gazes into infinity.
He is accompanied by the falcon that represents the god Horus embracing his head from behind with his wings.
Unity and balance create a powerful image of divine majesty. Originally, it was located in the temple in the valley of the pharaoh, inside a paved pit.
Despite the multiple studies carried out, the reign of Khafre is still veiled by a halo of mystery, but his legacy lives on in the wonderful constructions and sculptures that were made during his time in the mortal world.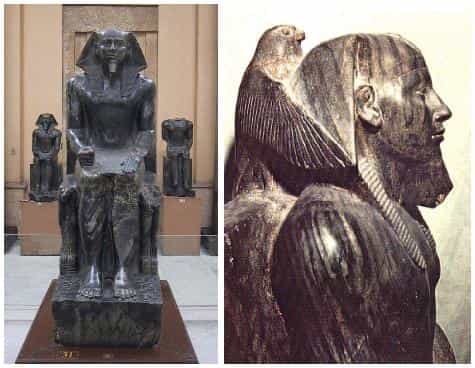 Testimonies of his time
Pyramid , temples , boat moats, processional road, in Giza
Tomb of Queen Khamerernebty I, in Giza
Seated statue of Khafre , in Giza
Statue representing the king (MCNY museum)
Mace head with his name, in Giza
Fragment of a mace head, in Giza (Petrie museum)
Cylinder seal found in Byblos
Stamp, UC11100 (Petrie museum)
Stamp impressions, at Giza
Seal impressions, in Buhen (Petrie museum)