Understand how the incredible structure has reduced the risk of shipwrecks in the past.
Until 280 BC, reaching Alexandria by sea in Egypt was an adventure. The cliffs along the coast caused many accidents. The risks only diminished when King Ptolemy II inaugurated the Lighthouse of Alexandria.
Designed by the Greek architect Sostratus of Cnidus, the lighthouse signaled the entrance and also the dangers of the city port, on the island of Pharos (present-day Ras-El-Tin peninsula). The fire that lit its top could be seen about 50 kilometers away.
According to historian Julio Gralha, a specialist in Ancient Egypt, the work is probably the first of its kind – the word Pharos "lighthouse" comes from the name of the island on which it was located. In the 14th century, an earthquake destroyed the structure, which was between 117 and 134 meters high.
With its stones, a fort was built around 1480. It is still today where one of the Seven Wonders of the World existed.
1. Geometric shapes
The architect Sostratus of Cnidus designed the building in different formats. At the bottom was a square base. Then there were three towers. The first was rectangular. The middle one, octagonal. The latter was cylindrical.
2. Stone on stone
The Alexandria Lighthouse was probably made of a light-colored granite, covered with marble and limestone. The blocks were joined with melted lead and a type of cement known to the Egyptians, made from resin and limestone.
3. Shelter for everyone
Around the base were the administration, places to store the fuel for the fire, stables for the approximately 300 animals (like oxen) that carried the fuel, dormitories and cafeterias for the workers and soldiers, who protected the place.
4. Reflected light
The last part of the building, in a cylindrical shape, housed the torch and was divided into two: one where the men worked to maintain the fire and another where the light was seen. It is believed that near the furnace there was a bronze plate that, well polished, simulated a mirror and helped to reflect the light of the flames during the night.
5. Strength in the arms
The animals went up to the beginning of the octagonal part. From there, the fuel went up through a pulley system to the furnace location. In the first towers, windows helped in the circulation of air, so that the fire burns more easily.
6. Long way
From the square base, the animals carried the fuel that fed the fire and climbed ramps. The fuel was probably wood, but there is also the possibility that dry animal manure or oil was used.
7. Work is necessary
It is likely that, among administrators, soldiers and those who kept the lighthouse in operation, more than 100 people worked in a shift system. They were mandated by the government – but were paid salaries.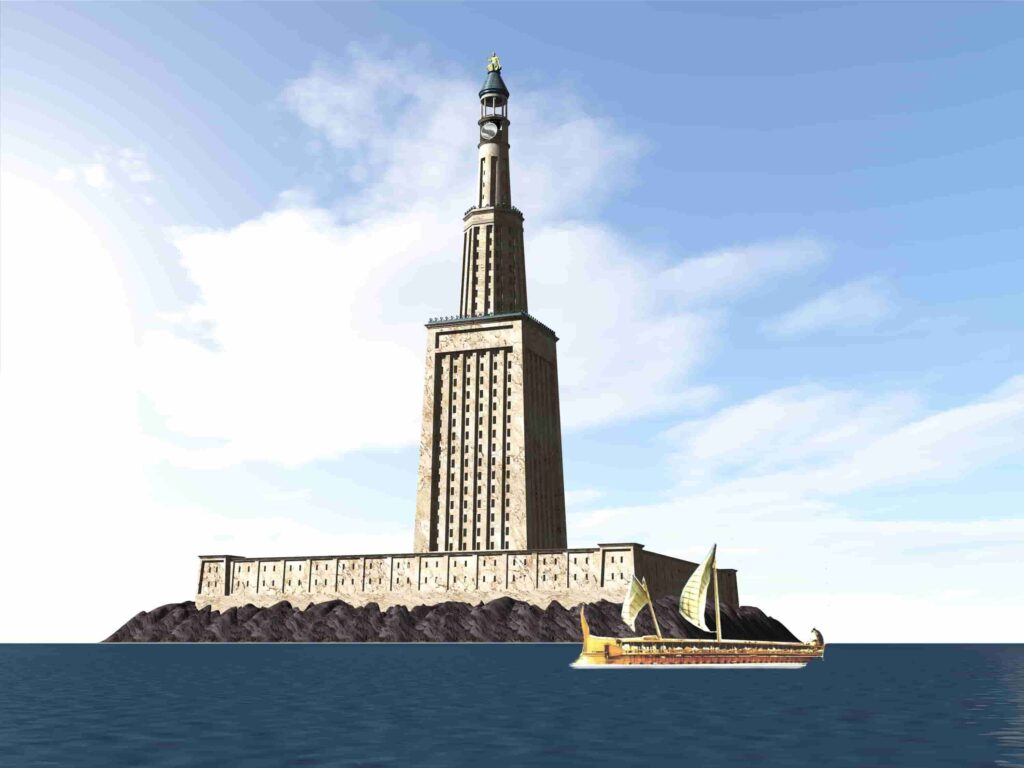 First photo: 3D representation of the Lighthouse of Alexandria. Wikimedia Commons
Source: Aventuras na Historia