Once finished it will be the largest museum in the world dedicated to culture
17 years ago the Egyptian ex-president laid the foundation stone of the Grand Egyptian Museum, just two kilometers from where erected Pyramids of Giza in Cairo, capital of Egypt.
Today, between beams and scaffolding, there are 5,000 workers trying to finish a part of the museum by the end of the first quarter of 2019, as the authorities had planned.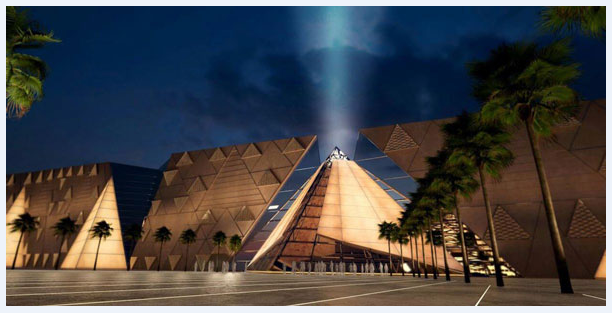 The construction will have about 450 thousand square meters, cost about one billion dollars and was designed by the Irish architectural firm Heneghan Peng, using elements and colors of this millenary culture.
Two of the walls of the building were aligned to coincide with the faces of the Great Pyramid and the Pyramid of Menkaure and inside, once opened, there will be more than a hundred thousand treasures that span more than 3 thousand years of the history of this country located in North Africa. The building will have a translucent facade over 800 meters long.
The project, which will be "the largest museum in the world dedicated exclusively to a culture", will contain an exhibition with all the funerary elements of the King Tutankhamun, among them his famous funeral mask and even clothes and shoes.
There will also be a hotel, a shopping center and a convention center, restaurants with a view of the pyramids, panoramic gardens surrounded by palm trees and even a small golf course.
One of the reasons for the construction of the Great Egyptian Museum, was to safely accommodate more than 70 thousand pieces -among funerary items, mummies, sculptures and reliefs and papyrus- that were in cellars of the Egyptian Ministry of Antiquity or in vaults of the current Egyptian Museum, built in 1858, and which have never been seen by the public.
Another reason is that it promises to increase tourism in the area, since between 10% and 13% of the population of this country benefits from the economic flow of tourism.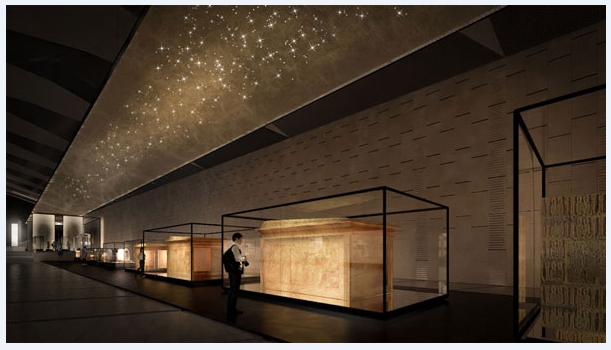 The Grand Egyptian Museum will be completely finished in 2020. While that happens, more pieces of ancient Egypt continue to arrive at the hands of the restorers of the new museum, among them various canopic vases, sculptures and even a gold crown made for the goddess Hathor.